March 4, 2008

Greetings to all.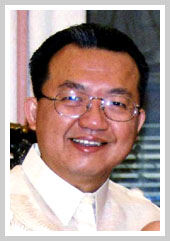 The main goal of this website is to provide to all a virtual reference on Philippine philately. For the past 10 years, many of us have viewed it with much appreciation and always anticipating what and when the next update would be.
This update is made on the anniversary of the re-opening of the Manila Post Office during the Japanese Occupation of the Philippines. As you have known, I am assuming the responsibility of maintaining this website and periodically, as time permits, will do the updates. Late last year Abe sent me a copy of the site files, over 1.6 gig in size. At present, I am still in the learning curve and Abe has been very kind and patient in guiding me through this endeavor. With everyone's unwavering commitment, we can strive to continue the standards set by Abe for this website.
The present update includes the revision of "THE PHILIPPINE COMMERCIAL SECURITY ISSUES" in the U.S.P.I. Collection section. There are new 42 images (8 pages) added to this collection. Please note that the images of the C.B.I. perfins need to be improved. Please let me know if you can help.
The following collections have new pages:
The 1925 LAMBERT SALES CO. SECURITY STAMPS (5 Frames or 80 pages exhibit format)
1898 - 1944 REGISTRY RETURN RECEIPTS
PHILIPPINE VIEWS ON MILITARY CARDS
CENSOR MARKS: GARRETT ILLUSTRATED
PRISONER OF WAR CAMPS IN THE PHILIPPINES
Abe finished the new pages for the above collections late last year and just recently his nephew assisted us by uploading them to the site.

New entries added to the following Archive sections:
- Spanish Philippines: Tarjeta Postales, Outbound Mail and Spanish Philippines Related sections.
- USPI: Stamps, Postal Cards & Envelopes; Bureau, Surcharged, Philippine Islands and Commonwealth Postal History
- Japanese Occupation: Commercial Mail

New collections as well as revision of existing ones are currently being processed. Philatelic materials of interest will continue to be highlighted in this website. In this regard, I welcome any contribution or suggestion from fellow collectors.

Trust that I will find the extra time to update the site. But in order to do so I need all the help I can get specially on philatelic aspect as there are so many things I know not yet. I would apprciate it very much if the contribution you will make come with the complete philatelic details. After all this is not my website but OURS!

Dr. Tommy C. Sim
Houston, Texas, U.S.A.
docpinoy@gmail.com