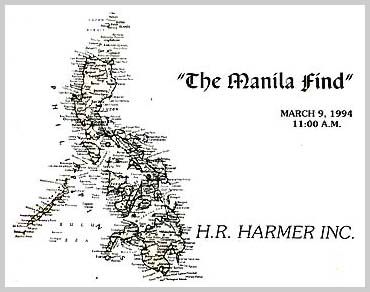 The firm of H.R. Harmer has long had a history of placing on the philatelic market major "finds" that further enhance all of our views of our hobby. In 1925 probably the ultimate was the famous "Mayfair Find" of 84 large blocks of British Commonwealth and Foreign classic stamps. In 1948 in New York the "Charnley and Whelan Find" of 42 St. Louis "Bear" Postmaster covers amazed the collecting public.

Now in 1994 in New York H.R. Harmer Inc. presents "The Manila Find." Discovered in the early 1980s in California, it is a fascinating correspondence in which some of the covers had the stamps removed and lost. The purchaser, a private trust, after over a decade decided to sell and Harmers was chosen to reconstruct the covers and arrange their auction. Other than four covers that were permitted to be sold at an earlier time, these covers constitute the entire correspondence from the U.S. from 1860 to 1872. Incredibly, this correspondence of only 32 covers, seven of which bear incomplete frankings, encompasses the entire range of classic issues of the United States mailed to Manila. Truly a "Find" of the first magnitude.

This wonderful and interesting correspondence took place primarily between Mr. Charles Wyman of Boston and Mr. George H. Peirce, a Bostonian who moved to Manila to effect trade of cigars, hemp, and any other material one could make money on. The letters, especially those during the Civil War, are replete with market information, gold prices, American politics and news and world situations affecting prices and trade. There are also illuminating personal notes giving insight into family life during this period.

THE COVERS

The covers are all of light-weight paper with an attractive hue of blue. The stamps' colors are generally of deeper intensity than normally found due to their "reclusive" life.


Reproduced from "The Manila Find" auction catalogue of H.R. Harmer, Inc., March 9, 1994 Sale.

Two covers addressed to Hong Kong not included in this presentation.

Uploaded June 19, 2002. Revised March 10, 2007