Manila, Philippines
August 31, 2003

Dear Friends:

About a month ago I received a letter asking if I still have room on this site for a small collection of Philippine Booklet Panes. Without hesitation I immediately replied and last week a small envelope was delivered to me. Thinking that they were photocopies of the collection, I was surprised to see the actual items, brief descriptions of each item and a CD of prepared images.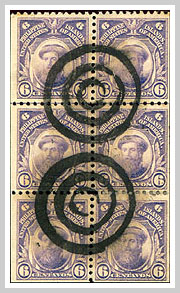 Thank you very much for waiting. I present to you PHILIPPINE BOOKLET PANES (On Cover). There is one peculiar thing about this collection. In a way it can be called the ERNEST H. OESCH correspondence as majority of the covers were prepared by him. Some collectors will therefore deemed them to be philatelic. However each cover is properly franked and dispatched by Mr. Oesch as genuine correspondence. This now make the covers commercial in nature. I believe you will agree with me that Mr. Oesch was one of a kind. The covers he prepared always stand out from the rest. During his time I cannot think of another collector that used booklet panes as extensively as he did.
In accepting this collection for display I committed to the request of the owner that his identity be kept secret. All that can be said of this collector is that he started this collection in the mid 1980s. This small collection is now presented to you in response to my call for contributions to the site. I can only surmise that without The Philippine Philatelist we would never know that such a collection exist.
Thank you very much and as usual.....ENJOY.
Abraham