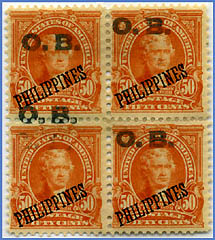 10 FRAMES
160 EXHIBIT PAGES
372 STAMPS
Singles, Blocks, Plate Blocks
242 COVERS
Plus a detailed listing on what has so far been seen and documented
and 101 town cancel covers not included in the exhibit.
WOW!!!
You've seen part of it before. Now see it complete.
Better still be at the Dallas APS show next week. Believe in me when I say
that the viewing pleasure will be totally different when you see this collection
mounted in exhibit frames as compared to a web view.
Only from the philippinephilatelist.org
Nothing else comes close!