Established mid 1898, resulting from a conflict of ideology between
Cebu revolutionary leaders and that of General Emilio Aguinaldo.

POSTAL CANCEL

Inscribed
REPUBLICA FILIPINA * ADMON DE CORREOS * CEBU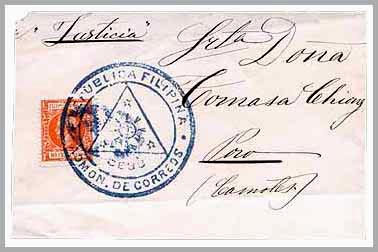 CEBU to PORO, CAMOTES (ISLANDS)
Postal cancel on 10c Alfonso XIII issue. Endorsed "Justicia".
Addressed to Tomasa Chiong, sister-in-law of Sergio Osmena, Sr.
and married to Pedro Rodriquez, who was a governor of Cebu.
David G. Chiong collection
No relation to the above addressee
Uploaded March 17, 1901